Dear Colina Families-
Restructuring for Student Achievement: Weekly Late Start Schedule 2019-2020
Thank you to all the parents who attended our informational meetings and your inquiry as to the purpose for restructuring.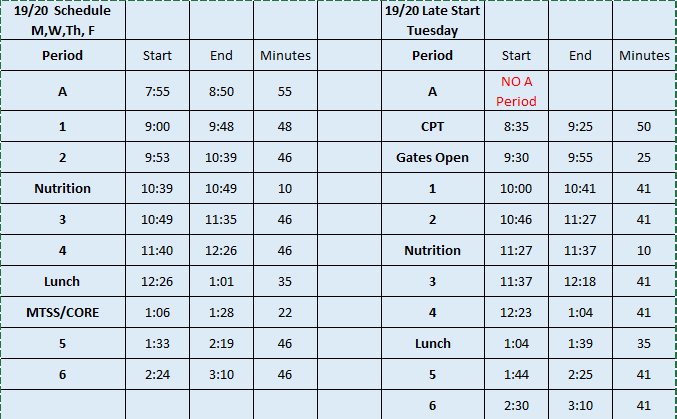 For more in depth information please click here Late Start Info.  Also please find attached our updated FAQ sheet compiled from our informational meetings and parent inquiries.
Get Ahead Programs: Information about the Conejo Schools Foundation Get Ahead Summer Program is now available online and  in the counseling office.  Registration opens for summer programs (including Health) on Friday, March 8.
Colina Honors Petitions for current 6th and 7th grade students and TA Applications for current 7th grade students are now available in the counseling office.  All petitions and applications are due Friday, May 3.
Looking Ahead
3/5- Choir Festival
3/6- Choir Festival Concert 7:00 pm Colina's Auditorium
3/7- 8th Grade Assembly: Tobacco/Vape Prevention presented by Dr. DeNoble http://www.victordenoble.com/Victor_DeNoble_Home_Page.html
3/8- Spirit Rally during school and Girls Soccer Tryouts 330-500 on the upper fields
3/11- Earthquake Preparedness Drill
3/12- Banked Time Minimum Day- Students without a period 6 will be dismissed at 11:55 am all other students will be dismissed at 1:05 pm.
3/13 Women in History presentations to social science classes and a GATE lunchtime activity in room 46
3/14 6th grade band students to Santa Susana High School Band Festival and the 8th grade will take their class panoramic picture. 
3/15 7th and 8th band students will attend their Band Festival; Girls Soccer will be after school 330-500.
3/16- NPHS Jazz Band Festival
Thank you to the Boys & Girls Club for making these messages possible!